Failing the HSK — You Were Underprepared
After the first attempt at the HSK, most students feel as if they did quite poorly. The listen section tends to frustrate students because of their lack of preparation of listening to real Chinese speakers. You could prepare well for the other sections but still suck at the listening section. The thing is, HSK test-failers don't make mistakes — they just come into the test center underprepared.
The speaking part of the chinese hsk exam sometimes requires you to give long enough answers. Many students stop talking too early. The problem there is again preparation: You need to know how to structure an answer and to keep the words flowing. A limited structure impedes your ability to continue speaking.
With that in mind, you can take the speaking and listening tests separately, allowing you to prepare for them separately. This can help students who can't yet write anything but can speak.
My personal opinion is to take the speaking test first, if you have that option. The questions asked on the speaking test are all simple, daily life questions. Things like, "What kind of teacher is the best and why?" or "What TV programs do you enjoy watching?" The only problem is that these questions are so devoid of content that you might run out of things to say. Not fulfilling the time allotted to you can hurt your score.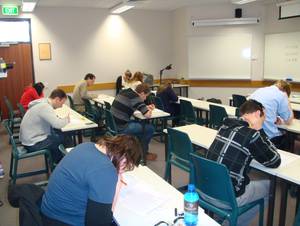 Many beginners skip the first HSK test in favor of the chinese hsk level 2 exam. Technically, according to what the test-creators say, a student taking level 2 should have a full year of Chinese instruction at a university before taking registering. So, a student with two college semesters of Chinese under his belt should be okay, according to Hanban. But I think half a year of intensive study is enough, if your goal is speed. I studied Chinese for 3 months by myself before my first test (which I passed).